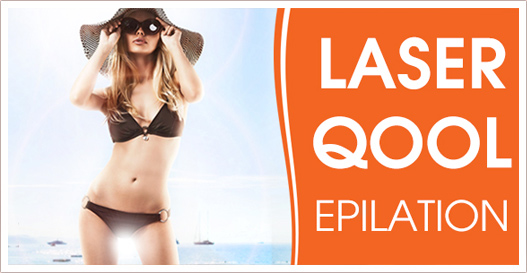 QOOL­epilation™ Technology(Hair Removal)
This new approach to hair removal offers the highest degree of selectivity since it achieves follicular destruction that is safe for the surrounding areas.
Patients describe the sensation they feel during the procedure as a mild pinching at the moment a hair appears in the laser aperture. The second pass over the same zone is sensation­-free; also, there are no sensations during a pass over naturally hairless areas (for instance, the palm and the dorsum of the hand).
This nearly painless procedure can be successfully applied on the face and armpits, and even bikini laser hair removal is pain­free. No anesthesia, pain medication or skin cooling is required.
For the new method of hair removal, the degree of the patient's skin pigmentation is quite irrelevant. The radiation emission parameters are calibrated to direct the damaging effects exclusively on the melanin located in the hair, leaving the skin intact. Therefore, the patient can regularly sunbathe and visit tanning salons prior to and immediately after the removal procedure. Thus, the new method of hair removal is safe, reliable and risk­free. How is this possible?
The QOOL­epilation™ method is based on the application of a special type of laser radiation emission — a milliseconds long train of nanosecond pulses. Once the hair melanin is exposed to a high­power nanosecond pulse, a drastic increase of the melanin's coefficient of radiation absorption (the effect of nonlinear absorption) takes place. The time period during which the heated object distributes the surplus of heat to the surrounding tissues, together with the intervals between pulses, are proportionate to the TRT (thermal relaxation time), allowing the laser impact on the hair to be guided selectively without overheating the skin. The cumulative effect of pulses coming one after another heats of the hair, while the skin is able to cool off during the short time intervals between each pulse.
The follicular unit is exposed to two kinds of stimuli: heat and mechanical stimulation. The latter originates because the energy produced by the nanosecond pulse is partly spent in the course of a laser­induced acousticwave formation. Acoustic waves successfully destroy the hair mechanically.
The laser wavelength (1079nm) used in hair removal reaches deeply into the skin, ensuring the removal of all hairs. The settings of the laser pulse trains (duration, intervals between the pulses, and energy output of each pulse) are programmed individually according to skin type and hair colour.