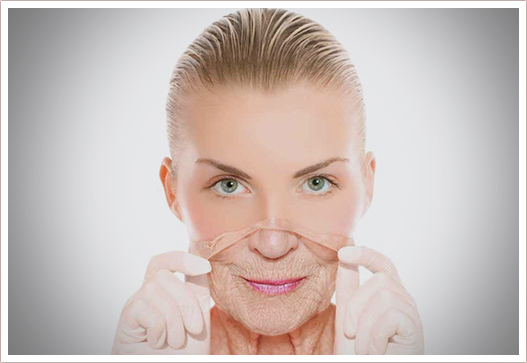 RecoSMA™ Technology
The Revolutionary new method to repair damaged human tissue
The method was developed and patented by Linline, and it is implemented in the Multiline series of devices.
The essence of this method lies in the fact that a periodic structure of tissue vaporised by microablation is created on the treated surface of a particular biological tissue. This is due to the particular energy, temporal and spatial parameters of the laser pulse, produced by an Er:YAG laser that is equipped with Linline's unique SMA module. The area affected by microablation does not exceed 50 microns in depth. Radiation is applied using thousands of microbeams that are each smaller than a human hair. About 10,000 such microbeams are applied to each square centimetre.
Thus, the epidermis is not removed and the skin does not lose its protective properties. Apart from external microablation, the procedure involves the nonthermal destruction of deep cells up to 6 mm in depth. Destruction affects membranes or nuclei or individual cells without creating extensive injured areas.
Due to this process the size of the contact area between living tissue and an external corrosive environment, such as oxygen in the surrounding air or areas of higher temperature, is not increased. No protective mechanism to grow fibrous tissue is triggered. On the contrary, we observe instead the activation of regenerative processes.
Damaged cells are replaced by young, functional ones that have none of the changes caused by age or disease.
The method is well established for the treatment of ageing skin (wrinkles, age spots etc) and age­related skin atrophy (sagging), scarring of the skin (stretch marks, post acne etc), and even in surgery (purulent wounds, trophic ulcers, pressure sores etc).
The treatment does not require anesthetics even when treating very sensitive parts of the body such as an upper eyelid. There is no risk of changing the natural pigmentation of the skin. On the contrary, the method provides an effective tool against age­related hyperpigmentation.
There are no restrictions on sun exposure and the recovery period is only several days. For this procedure the recovery period is not a time during which the patient experiences pain or discomfort, but rather one during which the patient may not be comfortable to appear in public for aesthetic reasons (dark spots that are reminiscent of hyperpigmented spots on the face).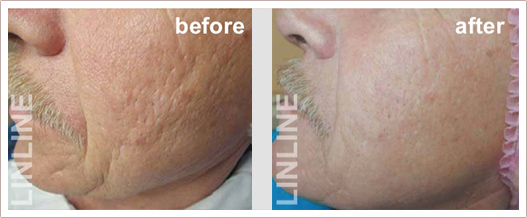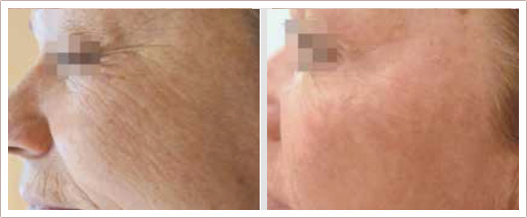 RecoSMA™ Post Acne Scarring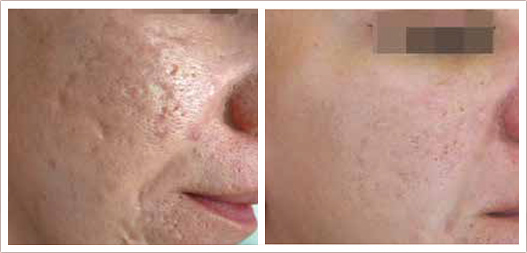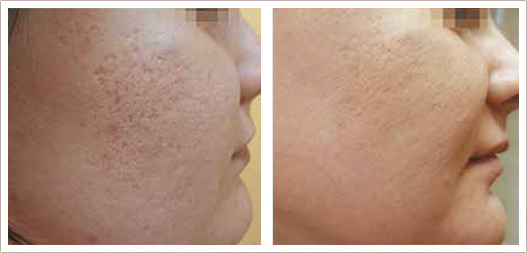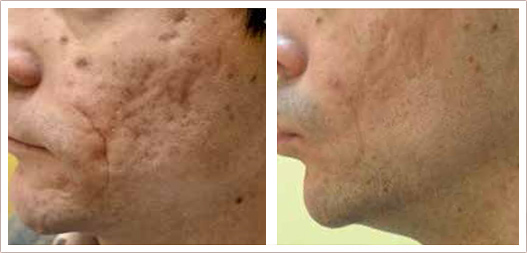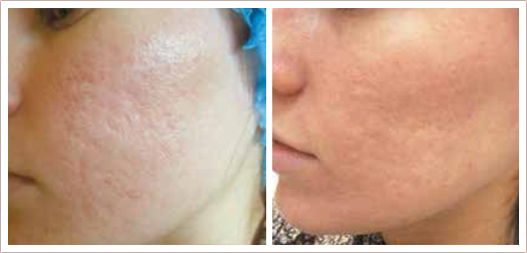 RecoSMA™ Stretch Marks